Top 6 At A Glance
We're an affiliate. If you click a link on this page and make a purchase, we may receive a small commission at no extra cost to you.
Product
Specification
Deals
Affordable Solid White Wooden Bunk Bed Frame
| | |
| --- | --- |
| Warranty | 12 months manufacturer's guarantee. |
| Color | |
| Size | |
Product
Specification
Deals
Single 3'0 Ft Pine Bunk Bed with 2 Single oxford Mattresses
| | |
| --- | --- |
| Model | MILANO BUNK BED, oxford |
| Size | |
Product
Specification
Deals
A well reviewed bed from Comfy Living
Great bed for sleepovers and for siblings to share by Noa and Nani
Product
Specification
Deals
Strong and sturdy solid pine wood bunk bed with two storage drawers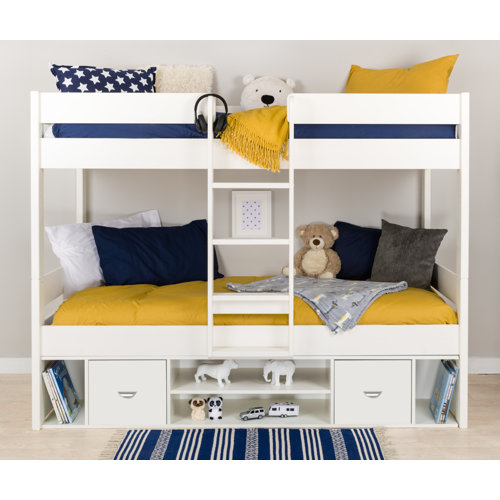 Detachable European Single Bunk Bed with Drawers and Shelves
Are you looking for a detachable bunk bed?
Bunk beds are great for children; they are the ultimate space saver for childrens bedrooms. But, our requirements change in life; what's right now may not be so suitable a few years down the line. With detachable bunk beds, you can have the best of both worlds. As your children grow, they may decide they want their own space, or you may choose to give them their own bedroom in the future. Detachable beds can help solve your immediate problem. If you're short of space or your children prefer to share, bunks are perfect. But if you'd like to keep your options open for the future detachable bunks are a fantastic option.
There's a great range available. We will look at our favourite beds, from standard bunk beds to detachable bunks with storage, trundle, drawers, shelving. We will also look at mattress configurations in the following guide.
Not what you're looking for? Consider buying
Our list of six great detachable bunk beds:
Happy Beds American Solid White Wooden Twin Bunk Bed
On A Budget-Standard Detachable Bunk
'American' Standard Detachable Bunk
By Happybeds
A traditional style American bunk bed frame from Happy Beds. It comes with slat style foot and headboard ends. This stylish bunk is finished in white and is a good match for any bedroom. The bed is made from solid pine wood and features solid wooden slatted bases. This bed is suitable for both children and adults.
This bed should keep your children happy for many years to come. When the time is right, it can be separated into 2 single beds. Simply ideal for growing children. You have the option to chose a mattress at checkout. It is worth noting the ladder is fixed for this bed.
Dimensions: 208 x 106 x 157 cm. 60 Kilograms
Heartlands Furniture Bunk Bed.
Detachable to 2 single beds With 2 Mattresses.
Heartlands Detachable Bed With Mattresses
By Heartlands Furnitures
Little ones will love this traditional-style detachable bunk bed from heartland furniture. It comes with two single bed mattresses. It's finished in a stunning white that will look fantastic in any child's bedroom.
This bed is manufactured from high-quality materials. There are solid slatted bases to provide comfort and support. The ladder is also adjustable, making it more comfortable for your kid to access the upper bunk. We also like the stylish matching footboards and headboards. There is also a safety rail on the top bunk. The Milano bunk bed offers quality at a very affordable price.
Dimensions: H 154 cm x W 99 cm x L 201cm
Comfy Living Christopher Pine Bunk Bed frame in Caramel
With 2 Mattresses
Comfy Living Detachable Bunk Bed With Mattresses
By Comfy Living
The Comfy Living Christopher Pine Bunk Bed frame has some fantastic reviews. This durable and robust solid wood bed will make a lovely addition to any childrens bedroom. The bunk has fixed slatted bases for comfort and support, and as your kids grow, you can separate the beds to suit your needs. It comes complete with two single bed size mattresses. A great piece of bedroom furniture for a sleepover or for little ones sharing a room.
Dimensions: H149cm x W97cm x L197cm
Brighton Triple Bunk Bed with 3 Single Beds in White
'Brighton' Detachable bunk bed with trundle bed
By Noa and Nani
Brighton Triple Bunk Bed with 3 Single Beds in White
as of February 12, 2021 3:07 pm
If you're on a budget and on the hunt for a cheap detachable bunk bed frame with a trundle, then look no further. This standard bunk is well-reviewed and comes finished in classic white. This bed is strong and sturdy, made from solid pine wood, and excellent for the money.
The bunk can be separated into two single beds, and there is room for a third person with the under bed pullout trundle. The perfect kids' bed for a sleepover!
Dimensions: Length 198cm x Width 97cm x Height 152cm
Modern Kids Wooden Solid Pine Bunk Bed 'TEZO' With Storage Drawers in Grey
'TEZO' Detachable Bunk Bed With 2 Storage Drawer Trundle System
By Arthauss Furniture
Children's bunk beds dont come much better than this funky solid wood bed from Arthauss Furniture. This bed would be the perfect addition for large households or when friends come over to sleep. This bunk bed also has a guard rail on the upper bunk, perfect for older kids. There's also guard rails on the lower bunk, the ideal solution for a younger child. Save space with the storage drawers, perfect for toys or bedding. Wooden slats make up the base.
This kids bed ticks a lot of boxes! If you are looking to maximise floor space, this bunk bed would be a great option.
Dimensions: L198cm x H156.5cm x W98cm
European Single Bunk Bed with Drawers and Shelves
Stompa loft bed with Storage – Drawer and Shelves
By Stompa
European Single Bunk Bed with Drawers and Shelves Stompa
out of stock
as of February 12, 2021 3:07 pm
You can create 2 single beds with this cleverly designed bunk bed by Stompa. It not only looks great; it happens to be versatile. The bunk bed is detachable, offering flexibility for the future. This sturdy and robust single bunk bed comes complete with storage compartments and shelving. There's also has a guard rail on the top bunk.
Both boys and girls will appreciate the extra floor space and love this cool, funky kids' bed! Children's bunk beds at its best. Expensive at the time of writing.
Dimensions: 90 x 200cm
Conclusion and other beds to consider:
Any kid would love a bunkbed. But other bedroom furniture pieces are worth considering for a child's bedroom. A loft bed, Cabin beds, sleeper beds often come with better storage options. Usually an optional trundle bed can be purchased to accommodate guests. A single over double bed bunk, double bunks, or a triple bunk bed are usually a better option to accommodate three or more people. For cheap and hard-wearing, you can't go wrong with a metal bunk bed.
Please note for safety reasons; not all beds are safe for all ages. Children under the age of six should not occupy a top bunk or any raised bed. It is also recommended that younger children don't occupy the lower bunk. Ensure all beds are manufactured to EU/UK Safety standards.
Important note. When deciding between our top picks, we considered each bed's cost at the time of writing. We would not hesitate to recommend any of the beds. Prices can fluctuate a fair bit, so our choices change if the price was right.