We're an affiliate. If you click a link on this page and make a purchase, we may receive a small commission at no extra cost to you.
Are you looking for childrens shelves?
Clear your way to a clutter-free home with these gorgeous shelves. Transform boring, bare walls into something special by adding some colourful kids' bookshelves or kids floating shelves or maybe a free-standing shelving unit. Get the most out of every bit of space in your bedroom with these fantastic children's bedroom shelves. Whether you're looking for simple nursery shelving solutions or shelves for boys or a girls room or something suitable for teenagers, we've got it all covered right here at Kids Beds UK.
Not what you're looking for? Consider these other buying guides.
Nursery Shelving Ideas
White Floating Shelves
By Vencipo
The Vencipo wall floating shelving has a simple design and rustic look that can be used for multiple purposes. Use it to display your favourite picture frames, books or collectables. It's perfect for the nursery as a toy shelf or in the baby bedroom as décor. With its compact size, it fits perfectly into almost any space.
This white wall shelving combines rustic and simple design with durable construction. The shelves are made of wood and have a white finish that will match every home decor style!
Cloud Shelves for a Children's Nursery
By Babaya Store
These floating cloud shelves are a unique and creative way to display your little one's favourite toys and books. The shelves are made from solid wood with a finish that gives an attractive appearance that will complement any room. The backing of the shelf is shaped like a cloud which adds to its unique design.
This set of 2 wooden cloud shelves comes in four colours; snow-white, dove grey, powder pink and baby blue.
They can be installed with little fuss. Perfect for a little girl or little boys nursery.
Floating Shelves Multi-Use (2 Pack)
By Halcent
The Halcent Floating Shelves are a great way to add extra storage space in any room of your home. You can use it as a bookshelf, display shelf or display wall shelf. It has no visible brackets. Great for displaying books, photos or collectables. They come with all the mounting hardware you need for easy installation.
Childrens Kids Bedroom Nursery Floor Standing Tipi Storage Shelving
By HouseandHomestyle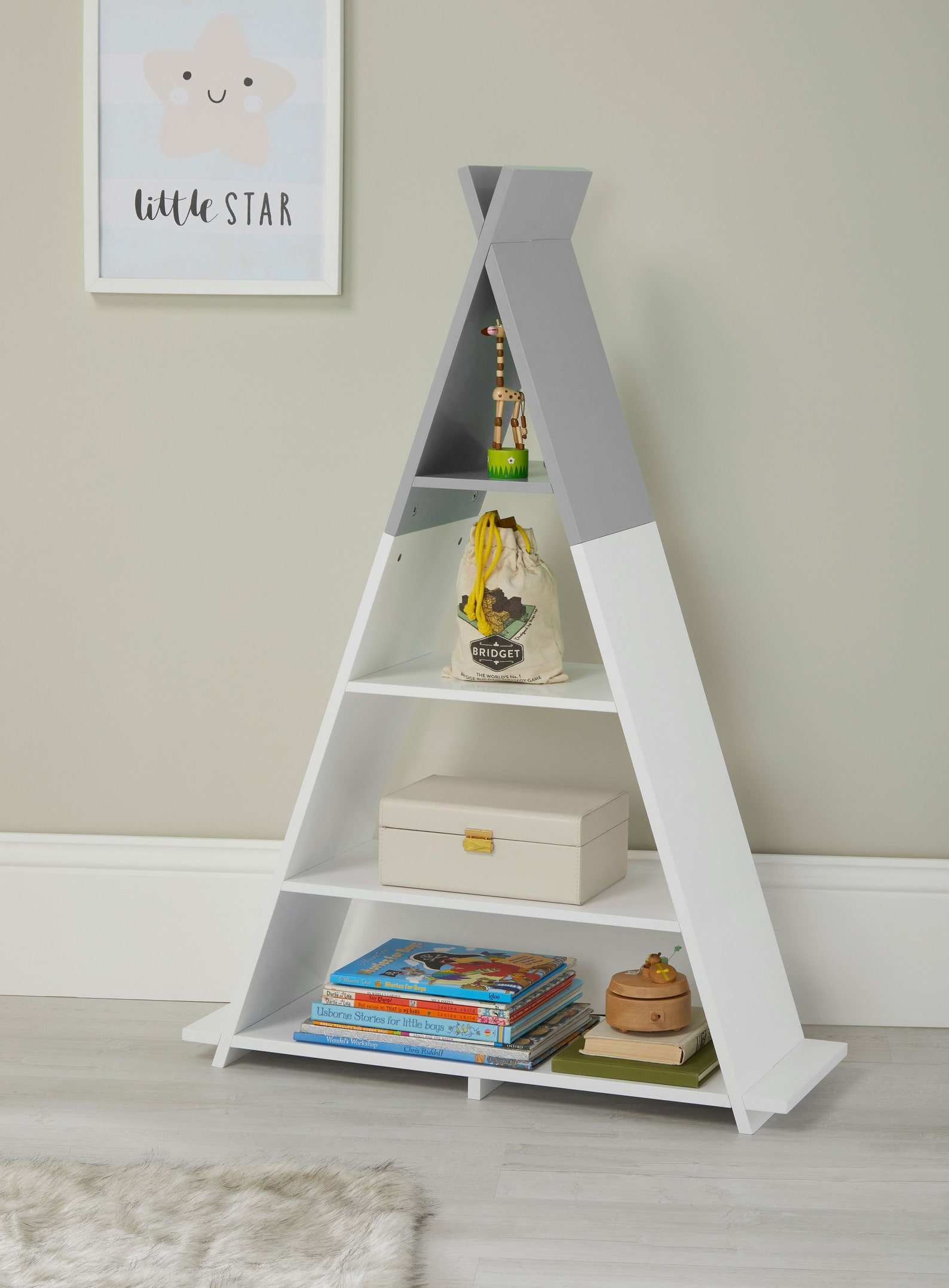 Childrens Kids Bedroom Nursery Floor Standing Tipi Storage Shelving White & Grey Green
as of March 24, 2021 3:32 pm
This tipi style wall mounted storage shelving is the ideal storage option for your child's bedroom or playroom. This nursery furniture piece is ideal for storing toys, books, clothes and more!
Louane Tree Bookcase
By Mathy by Bols
Mathy by Bols Louane Tree Bookcase is a funky wooden tree that can be used as shelving in your child's bedroom. The tree comes in 26 different colours, and you can choose one that will compliment the colour theme of their room. The bookcase is placed up against a wall and serves as a storage space for books, toys, treasures. This unique shelving system makes it easy to keep your children's bedrooms tidy and organised.
kids Floating Shelves – Budget, and Premium Choices
White Wooden Star Floating Shelves
By Home Zone

Great on a budget. HomeZone White Wooden Star Floating Shelves with Moon & Star features are a great way to give your little one a fun and safe place for their prized possessions. Well reviewed and crafted from quality materials, the shelves are sturdy enough to hold a few light books, toys and other items of different sizes. The star and moon shapes add a touch of whimsy to any kids bedroom!
Yieach 4 Pack White Acrylic Floating Wall Ledge Shelf
By Yieach
Another great option on a budget. The Yieach 4 Pack White Acrylic Floating Wall Ledge Shelf is a great storage solution for your home or bedroom. It is easy to install, and it can be mounted directly on the wall with non-marking glue without drilling holes. This shelf also features an attractive design that fits in any space of your house, thanks to its minimalistic look.
It can be used as a showcase for books, photos, artwork or cosmetics, and it will help you keep everything organised in a beautiful way. You can mount several shelves together to create an interesting display feature.
TEEbooks Floating Shelves – Set of 2 shelves
By TEEBooks
Premium choice. The TEEbooks floating shelves are the perfect solution for your space-saving needs. These designer shelves can be mounted to any type of wall and are extra thin and light. They are made from extra thin steel, 2 mm thick, and only weigh 3.2 kg.
The U-shaped design is perfect for books, CDs and DVDs, home accessories or decorative items. Screws and plugs included; mounts to any type of wall.
Shelves For Boys Rooms
Floating Shelves in a choice of colours
By WOLTU
WOLTU wall shelves are made of high quality MDF wood they are easy to clean. The surface can be finished in any color you want according to your preference and taste. They can be used together or separately as you like.
Their unique design allows you to display your favourite items on the wall in an eye-catching way. Perfect for teenagers to display CDs, DVDs, books and other small objects. Huge range of colours suitable for both girls and boys.
Shelves For Girls Rooms
Decorative Wall Hanging Floating Shelf
By King Do Way
This decorative floating shelf is perfect for adding additional shelving to a bedroom, Simply great for collectables, plants, crafts, photos and more. All her favourite trinkets all in one place!
Conclusion
Your bedroom is a reflection of who you are, so why not make it your own. The decorative floating shelf does just that by making an extra space for all the little things we love to collect and keep close at hand.
Please be sure to double-check all bed sizes before purchase.